To book a lesson or just chat things through call me: 07896 251 994
Brighton Singing Lessons, Songwriting and Piano Tuition
If you're looking for affordable, tailor-made singing, piano or songwriting lessons from an extremely experienced teacher – you've come to the right place!
"Paul Sand is that rare combination – a vastly skilled professional and a truly gifted teacher." - Timothy Spall OBE, actor
Hi!
I'm Paul Sand – a composer, musical director and singing teacher living in lovely Brighton (isn't it great here), dividing my days between writing commitments, a hectic private teaching practice and my family.
This is my teaching site: Welcome!
I give singing lessons, songwriting and piano tuition (or any combination of those) from my cosy studio in the garden.
I've probably more professional experience than most (one of the advantages of being in my 60s) but you can read more about that in the Biography and Testimonials sections.
I'm happy to work with anyone who loves music, from those at the top of their profession to absolute beginners. My aim is to help people achieve their goals quickly and easily. For all the work, sessions are fun.
You can always call to chat things through, check my availability, etc. (Leave a message on my mobile if I'm working and I'll get back to you.)
Best wishes – and hope to hear from you,
Paul
p.s. I run a small choir, which meets from 3 – 5pm on Sundays. We are looking for new members. You don't need to be a student of mine to join – and it's free. We rehearse and perform lots of different styles of song.
Come along one Sunday and see if you want to join. It's great fun. Call me to get details or, if you know my address, just turn up.
Singing Lessons
Paul Sand is the most experienced Brighton singing teacher and vocal coach, with 25 years background in the popular music industry and musical theatre.
Piano Lessons
Paul Sand has been a professional pianist and piano teacher for 25 years.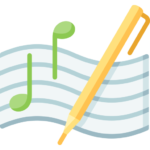 Songwriting Lessons
Paul Sand is an accomplished composer, lyricist & arranger for musical theatre, TV, film & advertising; and a songwriter for bands & solo artists.
It has taken ages, since covid to reestablish my one-to-one teaching (of singing, piano, songwriting and harmony). But now I'm back coaching everyone, from beginners to professionals. If you're interested,... Continue reading→
Join our choir. Gina and I run a small choir, which meets from 3 – 5pm on Sundays. We are looking for new members. You don't need to be a... Continue reading→
Since lockdown began, I've written and recorded three shows for Gina Louise to sing. The first has been filmed and is available on my website (paulsand.com). It tells the story... Continue reading→