It has taken ages, since covid to reestablish my one-to-one teaching (of singing, piano, songwriting and harmony). But now I'm back coaching everyone, from beginners to professionals. If you're interested, you can call me on 07896 251 994 to chat things through.
When someone arrives for a first lesson, I've to learn two things quick: what they want to achieve and how best to teach that particular person. Some people are technically minded, others intuitive, and so on. Everyone is different and needs to be taught differently.
There are professionals with vocal problems. There are those who think they can't sing in tune (they can). There are songwriters who want help with lyrics, melody lines or arrangements, or who want to learn to sing and record their own songs.
There are singers who want to write, guitarists who want to sing while accompanying themselves, those who want to learn new styles, or to improvise, or to work on specific audition pieces. And there are complete beginners.
I teach sight reading, theory, harmony, public speaking, all styles of music, recording and performance skills. ...Everything to do with freeing the person to perform technically, with feeling and without fear, so listeners or audience buy into the emotional journey (and catharsis can occur).
If any of this applies to you, just call me up and we'll talk it through.
Singing Lessons
Paul Sand is the most experienced Brighton singing teacher and vocal coach, with 25 years background in the popular music industry and musical theatre.
Piano Lessons
Paul Sand has been a professional pianist and piano teacher for 25 years.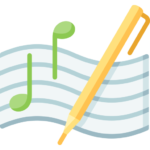 Songwriting Lessons
Paul Sand is an accomplished composer, lyricist & arranger for musical theatre, TV, film & advertising; and a songwriter for bands & solo artists.